Mobile Mechanic – We come to you. Over 20 years experience. No more having to go to workshops for your car service – we come to your home
or work. 
Member of Institute of Automotive Mechanical Engineers
Expert and friendly mechanics.  Set price service, inspections & repairs Genuine parts, high quality parts and lubricants. Workmanship is guaranteed! New car logbook service for cars still under manufactures' warranty. Qualified  Automotive Mechanics.   Don't just take our word… see what others say about us online.  Call now to book on 1300 628 666 or book online.
Private, fleet and business inquiries welcome !
Check our services below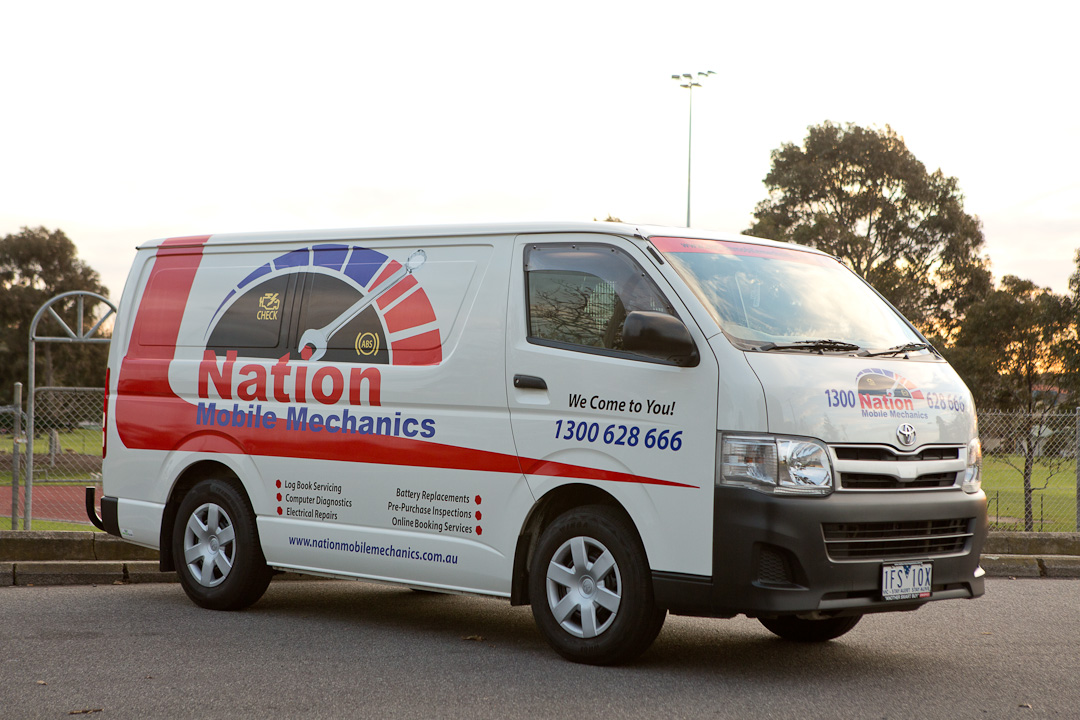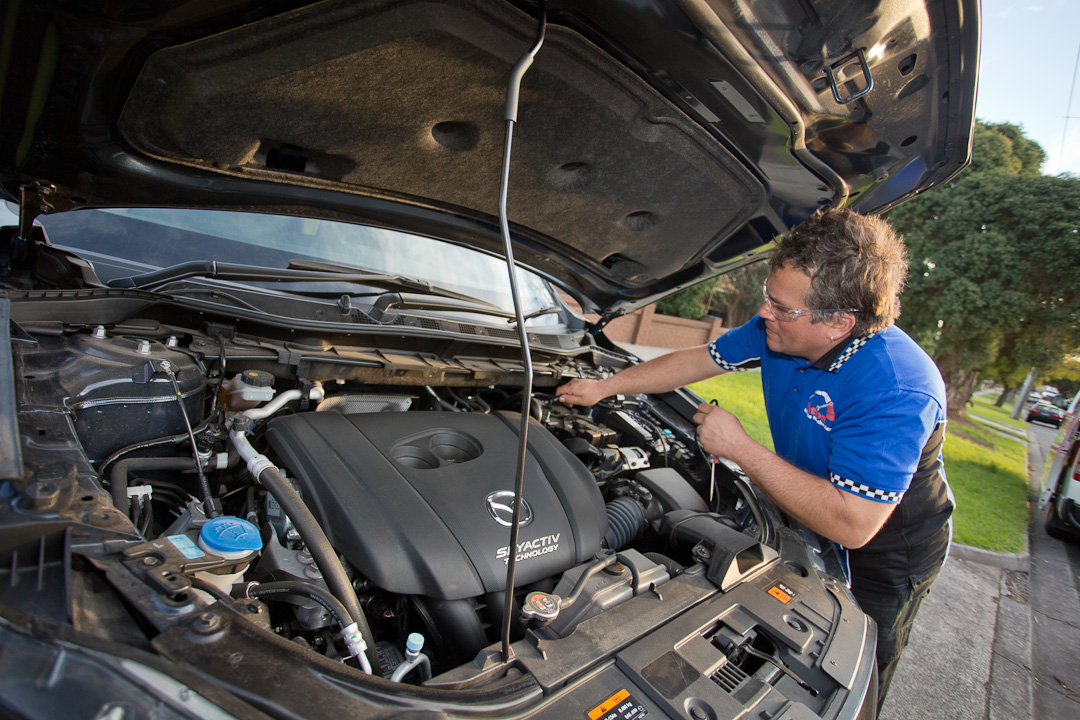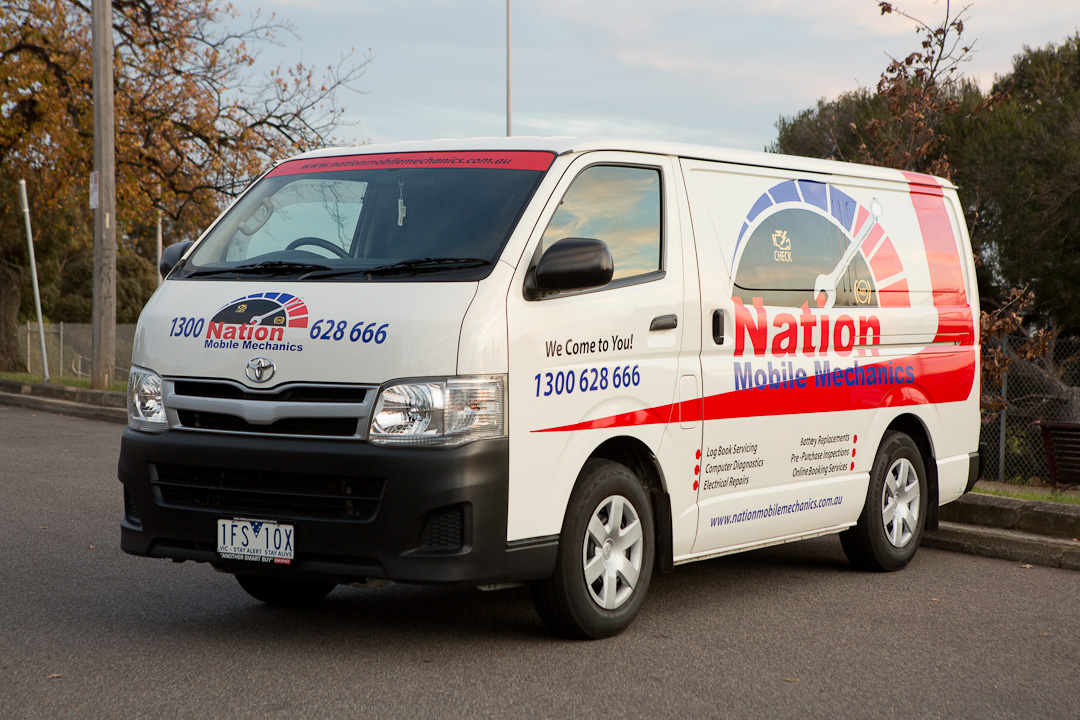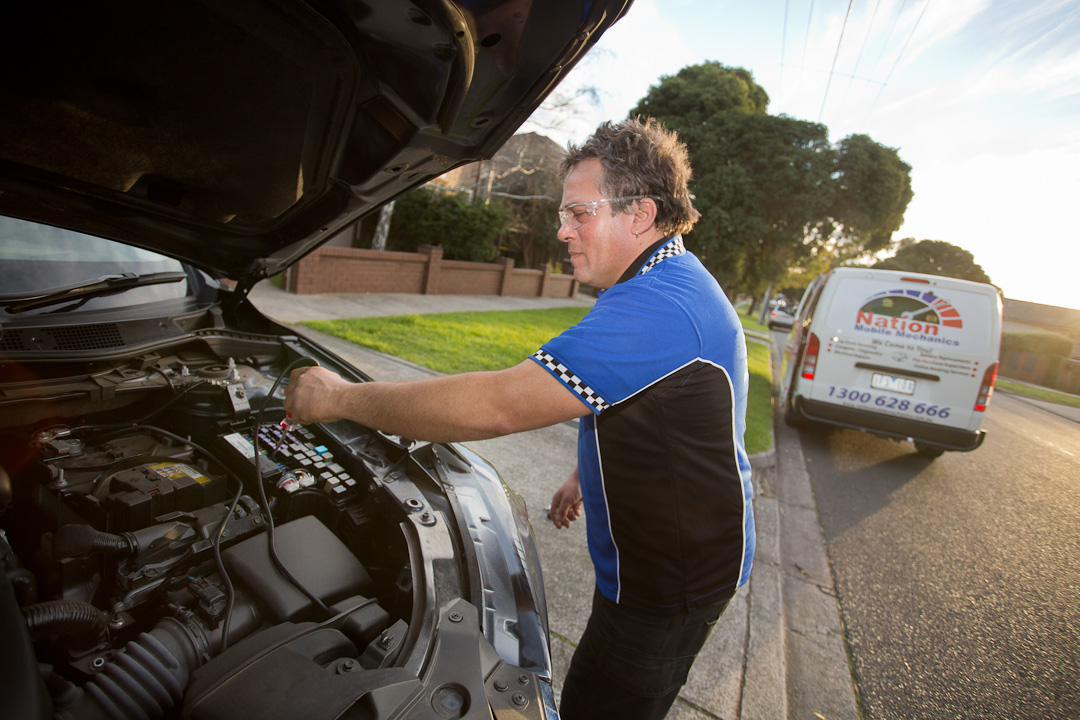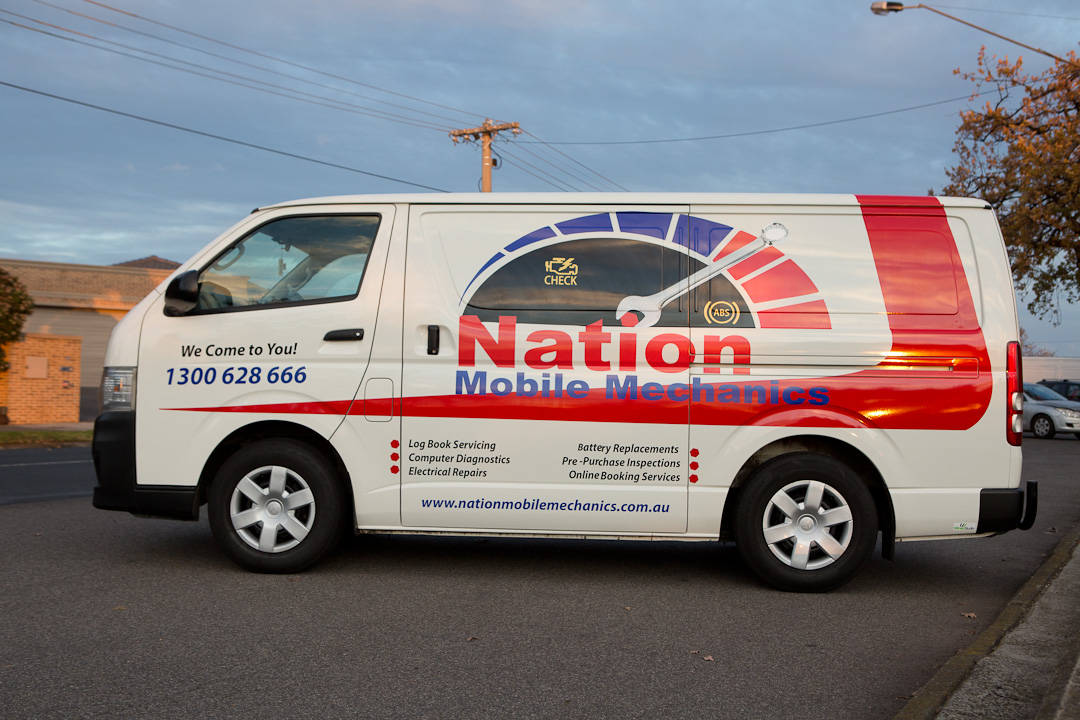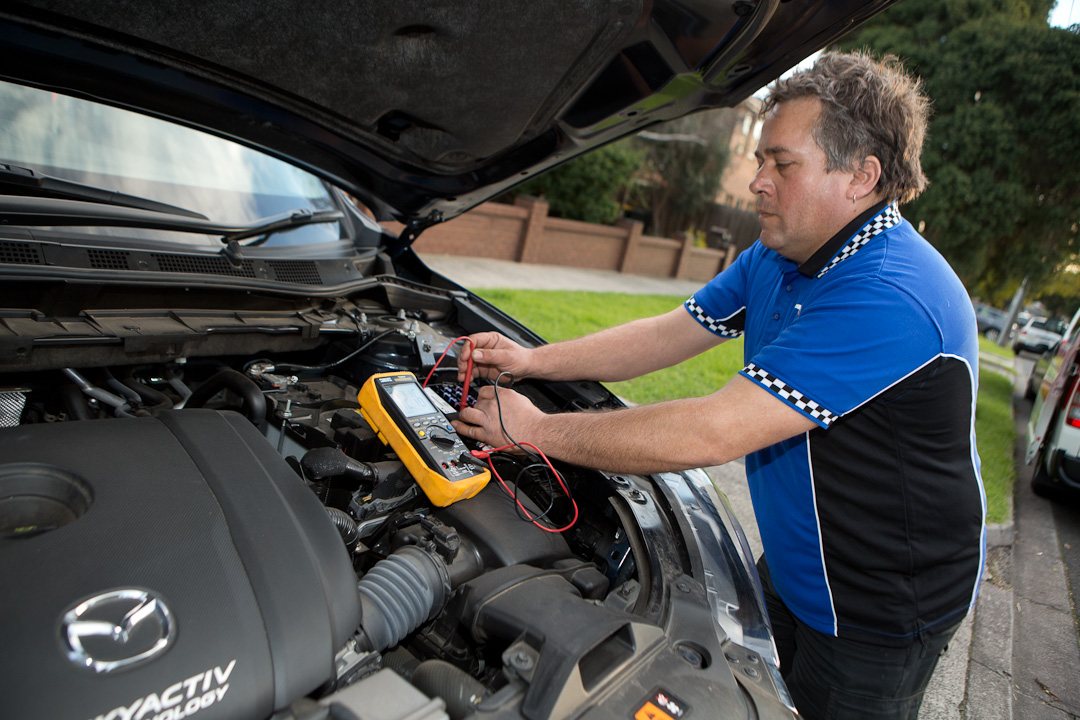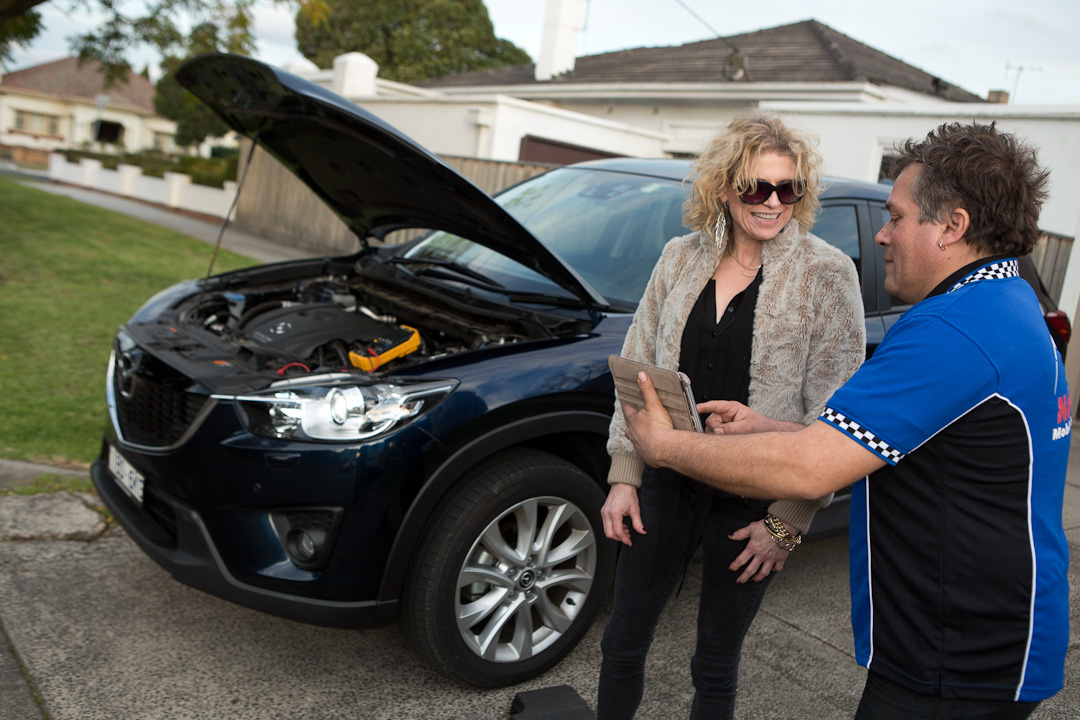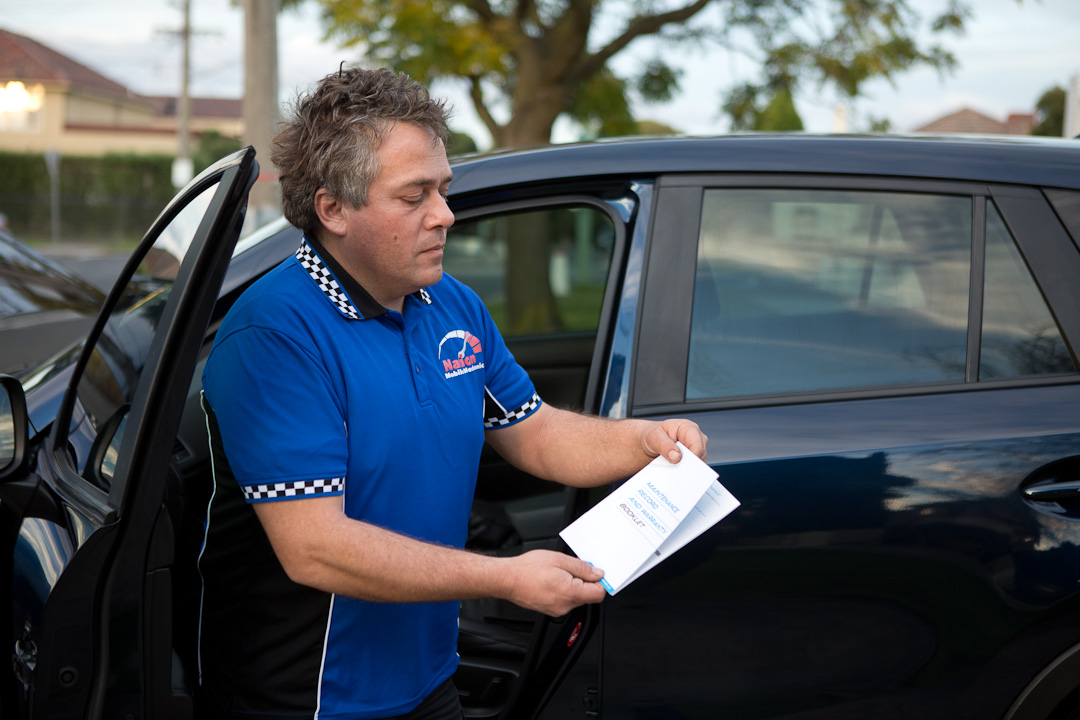 Testimonial for Bill
I was very impressed with the whole process, from the initial booking through to the actual service, and having all my questions answered patiently. Bill straight away struck me as someone that was being honest with me and not trying to use technical speak to confuse me.
I will use Nation again, and am now recommending them to my family and friends. They provide a new alternative to the usual options.
Adrian
Testimonial for Bill
Nation Mobile Mechanics regularly service some of our fleet with care and professionalism at a very competitive rate – Highly recommended.
Peter
National IT Services
Testimonial for Bill
Very Professional and very thorough. Highly recommended.
Phillip
Testimonial for Bill
I used Nation mobile mechanics for a major service recently.
The mechanic was on time and took proper care going through the whole checklist in my maintenance book. He also took the time to explain to me the exact condition of my car, including the wear of my brakes and tyres.
My maintenance book was also stamped, it was so much more convenient than taking my car into the dealership and much better for my pocket.
I would highly recommend these guys, top service
Con
Spoke to Bill today for
Spoke to Bill today for advice on transmission problem with Mazda Tribute. This guy is 100% genuine and gave me free advice which enabled me to move my car which was blocking a major truck entry to the Farm I manage. Thank you so much Bill, if only there were more Mechanics/ People in this world like you it would be a much better place. Bill has made my day, what a top bloke!!
John Thurbon
I was stranded on the
I was stranded on the side of the road and I called Nation mobile Mechanics and bill was very friendly thorough and got there in no time and fixed the problem at an affordable price despite my circumstances. thank you Nation
Effie
Efstathia Politis
Thanks Bill
Bill was very helpful and informative in his opinion of the possible problems and recommend the best course of action to take. Honest and friendly.
Carl
Carlslife
Bill = fantastic
Kept me informed every step with terms understood by my non mechanic self. Have been more than happy with the services provided and the work performed on my car. Cannot recommend Bill highly enough and do so to everyone who has asked about my mobile mechanic experiences.
Rebecca O'Donnell
Had a Full Service Today.Bill
Had a Full Service Today.
Bill Did A Really Great Job,
Very Professional, Very Honest and Very Thorough.
I Would Highly Recommend.
Troy
Great help
What a "Company " i was in all sorts of trouble with my clutch thanks to a bloke who lives down the road from me i payed him to fix my car and now he's gone missing in action on me so i have been left with the job myself the thing is im a treadie not a "Micanic" but i am more than capable of doing myself i just needed a hand on lining it up for me and everyone who i had called today could not help me which i can understand why they couldn't help like let's face it know one likes to finish of unfinished jods but it's not hard to take 5 minutes out of their day "Ever" i had call at less 8 other companies for help not one of them would help me out like this Company had just done for me now i never new you cold bye a tool from repco or super cheap auto to line up your clutch Thanks Heaps Guy's for pointing me in the right direction with my clutch thanks heaps for the 5 minutes out of your day
Brian Robertson
great company ..rang and Bill
great company ..rang and Bill was more than helpful on a job he wasnt making any money on ..highly reccomend
phils mushrooms
www.bellergroup.com.au
Billy has been looking after my 3 series BMW for some time. I would have no hesitation in recommending Billy to anyone looking for a trouble free convienant low cost solution to their car maintenance. Billy has saved me thousands of dollars through dilligent planning and cost effective outcomes.
All the best Billy i know whoever uses you will be happy with your service.
Regards
Robert German.
Robert German
Beller Real Estate
Fantastic
Spoke to Bill, regarding a car and when I mentioned cars and asked in questions, although I didn't book him to inspect a car as I'm not ready
I believe he gave me his honest opinion. I will use him when needed.
Thanks Bill you're an Aussie Champion.
Neil
Kaye
Well, amazing, straight down the line – Bill from Nation
How open and honest is Bill. Had to get work done on a little Suzuki so that I could pass a roadworthy as I have a buyer.
After walking through a list of what was needed from another place, Bill asked how much my buyer was paying me for this low k's vehicle. He said she is getting it far too cheaply and helped me make a decision to keep it, Don't you think that is pretty good.
Bill, my Dad was a mechanic and had your attitude. It's great to know in this very tentative world, that people like you are around. Thanks heaps.
Kaye, Malvern Vic
Kaye Beeson
Appreciate the Honesty
Called today for some advice about repairing my stereo/radio. Bill was very helpful, genuine and honest. Thank you!
Nya
Finally an honest reliable mechanic!
I used Nation to service the work vehicles for the convenience of the mobile service. Billy did a great job. The bill was cheaper than the dealer & Kmart we had used before! No dodgy bill padding like workshop consumables, wiper additives, environment charges, sump washer etc. Billy gave us a realistic & comprehensive report of the work done & what will need to be looked at next service. I was so impressed I got him to service my own cars. I will never go back to those franchises.
Thanks Billy great job.
Cheers Wardy
Wardy
Opus International COnsultanta
Good Service and Advice from friendly and very proffesional mechanic Bill
I had problem with my car and also needed service so I rang National Mobile and nice gentleman and very friendly but most importantly to me very experienced and honest mechanic came to my place his name is Bill and done very good service on my car at good rate and found problem on my car and what to has to be fixed. Very professional and honest mechanic and gave me quote for future work so soon i will need Bill to fix problem on my car and without need to get other dodgy mechanics i experienced in the past. Would definitely recommend Bill to everyone to use his services.
Zlatan B,
Zlatan B
Testimonial for Bill
I've had some problems recently with my 2001 Nissan Pulsar, the latest being a 'non starting' issue. Rather than having my car towed to a repairer I decided to try a Mobile Mechanic and I am so glad I picked Nation Mobile Mechanics to carry out the work. Bill was both very friendly as well as efficient and did not hesitate to go the extra mile to get my car back on the road again. But, what I liked most was that I have a second car that I was having electrical issues with and Bill was more than happy to take a look and give me some advice, even after the work he had been called for had been finished and paid for. If you are looking for work to be done efficiently and at a reasonable price give Bill a call.
Geoff James
bill gave great service very
bill gave great service very happy with fast response time will use again highly recommend his services to any one
peter stacey
Just had my Riley Elf
Just had my Riley Elf Mini fixed at The Prixcar Depot in Melbourne and I live in Sydney . Bill was the man that fixed it all. No hassles, no dramas , price was amazing, his service and maturity and just his knowledge about older cars was incredible . If he lived in Sydney I'd have him as my mechanic any day if your ever in Sydney come drive the mini
Cheers Bill
Michael
Michael ZAPANTA
Bill has been servicing and
Bill has been servicing and repairing my car for a little over a year now..
I am so glad to found a great mechanic..
I would highly recommend Bill to anyone who is looking for a really honest and reliable mechanic.
Prompt service and reasonable pricing..
Very down to earth person.
Thanks Bill for looking after me!!
Mulgrave Vic..
Kind Regards Troy..
Troy Alv
Highly Recommend
I needed an urgent matter dealt with short notice.
From the phone call at 9 someone was out by 11.30 and did an excellent job.
Very friendly and polite service letting me know exactly what was required, what was being done as agreed upon and even some few little extra spoils for the car thrown in.
Highly recommend and would definitely use again.
Many thanks
Belinda
Belinda
Thanks for your friendly help
Thanks for your friendly help on the phone today. You know your stuff!
Geoff
Geoff Baker
Great advice
I phoned Bill today due to an issue I was having with a damaged oil filter. Thanks Bill for the honesty and help, I'll be sure to recommend you in the future.
Chris
Excellent service
Bill was contacted at short notice and came to my work and serviced my car. He changed both front and back brakes and did this all in great time. A lovely man who did a wonderful job. Would highly recommend him and will be using him to service my vehicle from here on. Great price and great service. Thank you Bill. Very professional.
Belinda King
Fantastic phone service
I spoke with Bill on the phone, I was stressed as my car suddenly having electrical issues. Bill went into several options to try and have a look at and then explained how we can check this. He was so helpful and kind – trust me after dealing with the OEM this was such a great change. So we will try his suggestion and then if not i will 100% get him in to look at the car. Good old fashioned friendly service what a great surprise!
Jeanette
Very impressed
Called to book in for a call-out and Bill was very helpful and gave me advice on how I could handle the issue myself and save money. I can not recommend enough.
Jamie Danckert
Great service
Very happy with his service of my vehicle,his attitude and his price. A true person you would trust
Beverley
Great help. NO CHARGE
I called looking for help doing a compression test on a boat motor I was looking to buy. Mechanic wasn't able to help but happily took me through the process of doing the compression test myself over the phone. Thanks heaps, cost of the tools was less than getting the test done and could potentially have saved me thousands.
Thanks heaps I'll be calling you again when I have work I need done.
Paul Bartlett
SORTED IN 5 MIN PHONE CALL
My car wouldn't start and I needed it desperately as I run a public outreach with my telescopes. I rang 3-4 different Auto Elecs, and got the right royal run around. It might be this, or it might be that and I'm booked out at the moment. Then I rang Bill, and in 5 mins he told me what the problem was. Not only that, he said that if I could handle tools I could do it myself. Go to repco and buy the part, in my case it was the ignition coil, then get on to utube and I would see how it was done. Got the part and 10 mins later my car was running. Holy cow!! Saved me $$ form him not to come out plus the time and stress of waiting for him to get here. As far as I'm concerned there's only ONE Auto Electrician in Melbourne and that's Bill. Can't thank you enough. And I will be spreading the word.
Jack
FOOTPATH ASTRONOMY
Outstanding service
I was very impressed with Bill's technical knowledge and his proficiency in attending to every detail in the recent replacement of rocker cover and manifold gaskets on my car. He is reliable and proud of his work. All the equipment needed for the job was ready in his van. He gave an honest appraisal of one or two other minor things which will need to be done as time goes on. I will always use Nation Mobile Mechanics for any future work on the car.
Geoff
Geoffrey Dye
Thank you, Bill
Bill was efficient, well prepared and very professional. I was really worried about my car
but his diagnostics and honest advice separated the real 'bad' things which needed to be done as a matter of urgency, from those that should be done to maintain a well functioning car.
I highly recommend National Mobile Mechanics in general and Bill in particular.
Natalie Nicolau
Bentleigh East, Victoria
16/05/2019
Natalie Nicolau
Fantastic Service every time
I called Bill regarding a problem which he helped out over the phone for no charge, so I called him again for future servicing of my company cars and all were serviced
professionally at a reasonable price.
Have scheduled routine services with Bill going forward.
Jim's Computer Services
Jim's Computer Services
Testimonial For Bill
Bill was great to deal with. Nothing was a problem and he was very knowledgeable about the car. He did extra little things to make sure my car was running well. Finally I've found a mechanic who is efficient, genuine, on time and thorough.
Highly recommend Bill to anyone.
Thanks Bill!
Karen Joseski
Above and Beyond
I've had Bill out to work on my car on numerous occasions. Every single time he goes above and beyond. He always does a fantastic job. Rarely do you get such honest ,trustworthy & reliable service. Can't recommend Bill highly enough. ⭐⭐⭐⭐⭐
Donna Powe
No charge phone assistance
Bill was a great help over the phone. Helped me trouble shoot with the issue I had. Could have come out and charged a fee and still given me the same advice.
Even referred me to a local mechanic to help me attain a RWC for the car.
Impressive service from an impressive guy.
Theo Angeles
Fantastic honest and reliable mechanic!
We've had the Volvo serviced regularly by Bill for a few years now and through all its ups and downs Bill has been nothing by honest, reliable and straight to the point. Bill is super helpful and explains everything in a patient, easy to understand (for those not mechanically minded) way.
I'll be getting my car serviced by Bill in the future and recommend him to all my mates here in Melbourne.
Morgan